LEAP™ 5 Content Plugins
Content Plug-ins give your Site or Server Administrator the ability to add in custom programming for modules or systems that are not part of the core LEAP™5 suite of modules, or those that are add-ons to the standard set delivered with your LEAP™5 license level.
E.g. a Weather module, to display the local weather and forecast on your site, or a custom product system.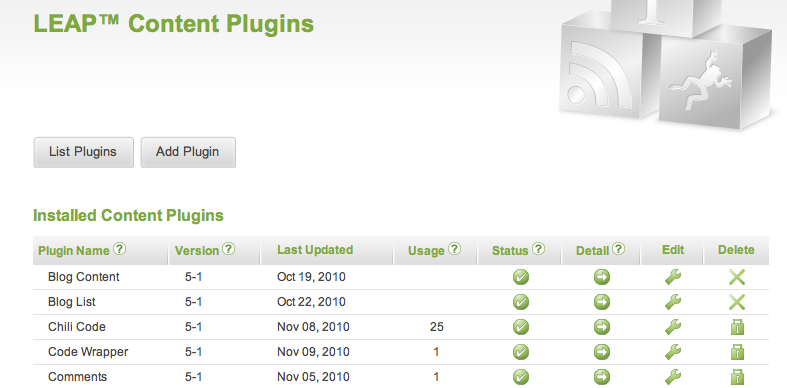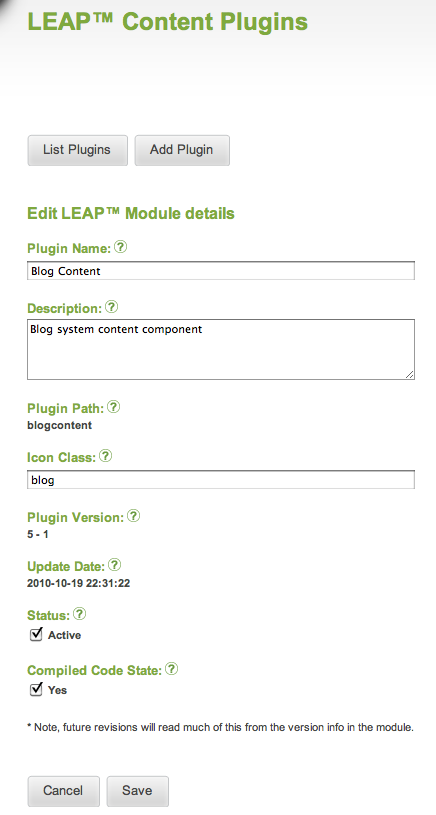 Using the edit option in this section, you can define the source files for the Plugin.
Specify the

Plugin Name

Give the Plugin a

description

The Plugin Path is specified on install

Specify the

icon

(can be set on install, but able to be edited here)

The Plugin version is specified on install

The Update Date is specified on install / update of the Plugin code

Status

allows a Site Administrator to switch off Plugins that are not required

Compiled Code Status

allow developers to test new Plugins in their local version before compiling for release
TIP! Leave the Plugin status as inactive on modules that are not in use to stop them showing in the menu lists, reducing clutter for content administrators (and reducing the risk of 'fiddling')