List Pages
On the page list you can see pages that are already set up, and from here you can manage whether the page is set to Live, or is hidden (not Live).
You have the following page management options: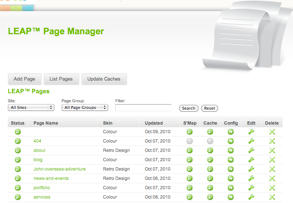 change the

Status

to 'hide' a page so that it is not live to external browsers but can be viewed and edited by a LEAPed in user
view, and update the

Skin

that a page is using
view when the page was last

Updated

specify if the page is actively included in the

SiteMap

specify if the page is to be actively included in

Cache

on the local browser
use the

Configure

option to set:


a specific

Skin

a specific

URL

(if your site consists of multiple URLs that share a common parent site)
a

Page Group

(see Page Groups in the next section)
allowing, or blocking, indexing by Page Robots
a specific

Style Grou

p - where this defines the fonts and colours that are common to all pages in that group.

Page Forwarding

for temporary of permanent redirection of existing/historic URLs to a new instance.
Edit

the page info such as description, author and page keywords

Delete

a page that is no longer required

Search

for a specific page using the Filter
TIP! use deletion with care - you can always make a page inactive or hidden until you are sure it is not needed anymore.