Logging In to LEAP™5
The default access method for LEAP™ 5 is to type "L3AP"* on your keyboard when you have clicked anywhere in a browser showing your LEAPed site. Typing this specific key combination will be recognized by LEAP™5 to trigger the login screen over the current page.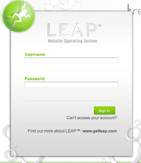 A username and password is supplied by your system administrator, or in the online registration process. The login screen can also be activated by hitting a LEAP™ USB Button.
If you have forgotten your password, click the text link 'can't access your account?' found below the login button, and a new password is sent to the email address associated with your login. If your email address needs to be changed for you to get your new password, you will need to talk to your Technical Support contact.
TIP!

If you get to the login screen and can't remember your username – press Escape on your keyboard to leave the login screen, then call your Technical Support contact.
* this access trigger code can be customized where required