Menu Manager - adding items to a Menu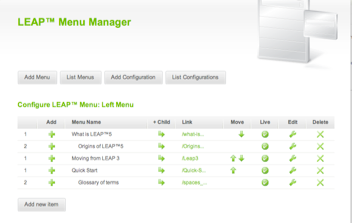 In the LEAP™ Menu Manager from the list of existing menus, select the Menu to Configure and open using the green Configure icon.

You will see the Menu items and their position - primary, secondary, tertiary or more, indicated by the number on the left hand side, and by indenting where the menu item is a child of the item above.
Add

a new Menu item by clicking the Add 
add a new sub-menu by clicking the +Child
When you add a sub-menu you can see it directly under the Name field showing the position that this new menu item will be.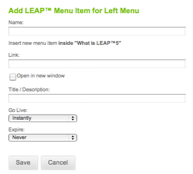 specify the

Link

for your Menu to match to the Page already created - or yet to be created - for that Menu items content
if your menu item is a

link

to another website, you can tick the '

Open in new window'

so that you do not lose your website visitors into another website
select

Go Live

as Instant, or, on a given date
specify if the page is to

Expire
TIP! if you want to take the page down immediately, edit the expire date to yesterday!