LEAP™5 Form Elements
Click into the form you want to add an data capture element to.
Click Add Form Element
In the panel that opens there are three tabs of configurable options. The first tab contains the Display Text.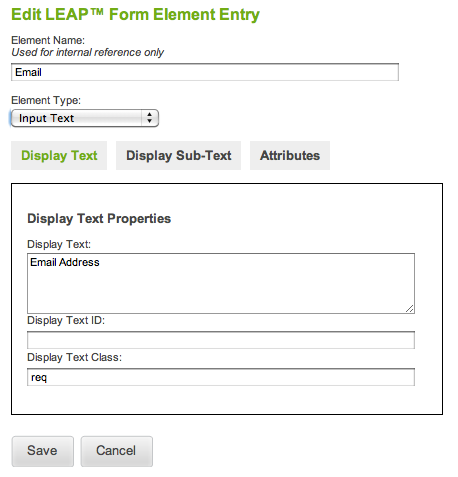 The Element Name is what the system Admin will see. The element name could be email-validated, or email-optional for example.
The Display Text is what the site visitor will see.
Display Text ID and Display Text Class - are web customisations that affect the style of the form element. Please refer to the descriptions of ID and Class on the About Leap Forms page.
Note: Display Text Class of 'req' = required. By using this Class the text will be highlighted on the form making it more obviously required. You need to match this with an Attribute of 'req' in the Attribute tab for the system to FORCE the user to enter a value.
Element Type Input options are: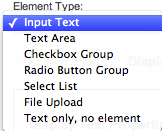 Text - Create a question that requires a typed answer
Checkbox Group - Create a one or many checkbox set
Radio Button Group - Create an 'either or' radio button set
Select List - create a choice for users to choose between
File Upload - to allow users to upload documents
Text only - use for providing information, like a text box, where there is no response required.
Display Sub-Text
Enter the descriptive information to help the user understand what they need to do with this element on your form.
Attributes
Set your advanced custom design in the Attributes, and this is where you can make answering an element mandatory or required and FORCE the user to make a choice or enter a response before the submit will process their form.
Placing and using forms
After your form elements are set, you can place your form onto a content page for testing, using the Add Content menu, Forms plugin module.
Once the module is placed, select which of your forms you want to use on that page.
Depending on your settings you will be emailed when users complete the form, and the data is stored permanently in the database so you can come back and download the information captured.
Please note! is it a breach of privacy to capture any credit card details using this open forms system. Payment information must be done only through an authorised secure payment system.